PRC Europe 2021 Networking Leaderboard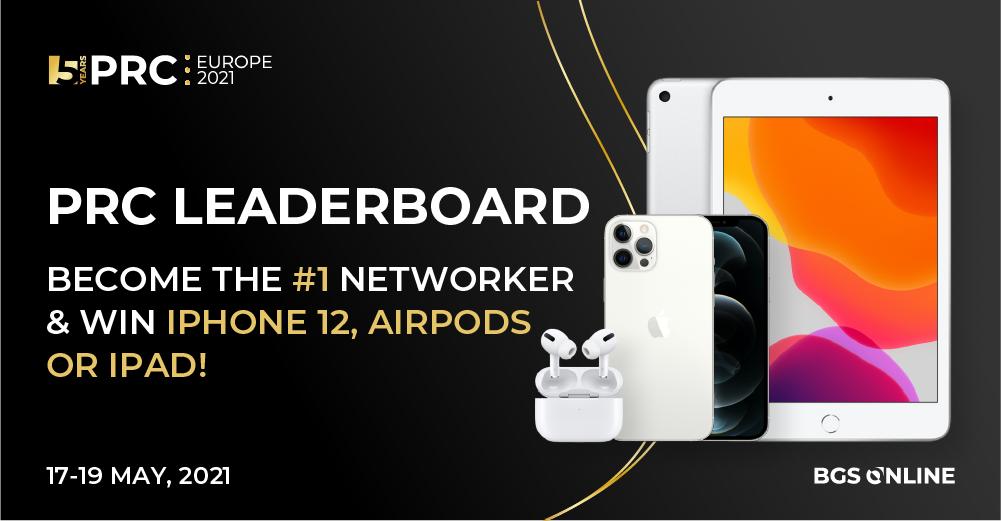 Make your way up the PRC Europe Networking leaderboard! Increase your score by participating in Congress activities. Start more chats and video calls, visit more stands, join more sessions to win AirPods, iPad, or iPhone 12!
HOW TO WIN?
You will automatically earn points by:
Logging to the BGS online

Сhoosing the sessions you want to attend

Attending the sessions

Visiting exhibitors booths

Attending B2B meetings

Visiting sponsors profile

Starting a chat
The Prizes
Leader of Day 1 - AirPods Pro

Leader of Day 2 - iPhone 12 Pro

Leader of Day 3 - Apple iPad Pro
The winner of the day will be announced at 16:15 PM (CET) on BGS Online live feed. Our manager will contact the winners regarding the prize delivery.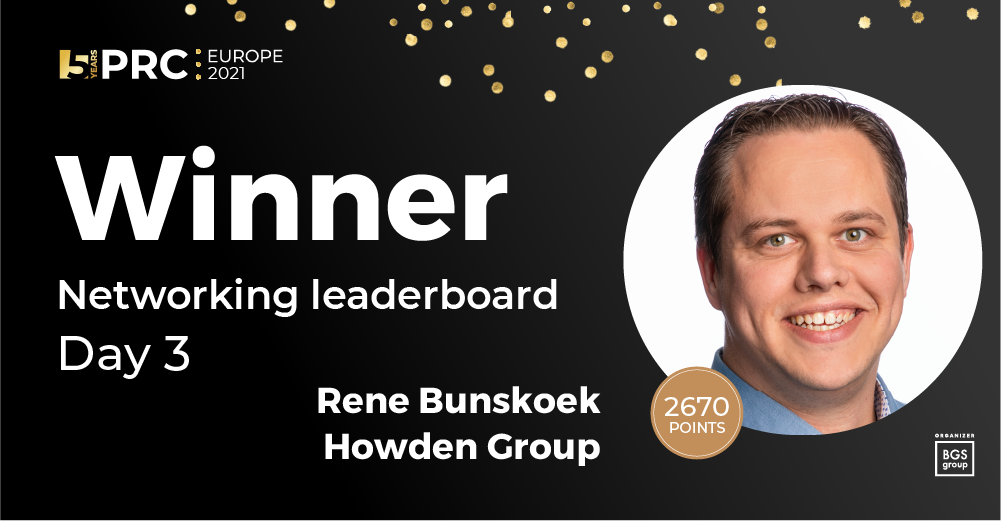 | | | |
| --- | --- | --- |
| # | Name | Points |
| 1 | Rene Bunskoek | 2670 |
| 2 | Thorbjörn Holm | 2612 |
| 3 | Emilia Hollmann | 1558 |
| 4 | Marcello Benevolo | 1556 |
| 5 | Karl Robertson | 1390 |
| 6 | Julian Schmierer | 532 |
| 7 | Ralf Schmierer | 527 |
| 8 | Rizwan Ahmed | 527 |
| 9 | Theresa Russell, Ph.D. | 490 |
| 10 | Ronald Schneeberger | 480 |
| 11 | Klaus Lederer | 468 |
| 12 | Pavel Hrabanek | 426 |
| 13 | David Wendel | 389 |
| 14 | Omar Ezzat Ahmed | 363 |
| 15 | Ziya Gurun | 361 |
| 16 | Johann Lainer | 357 |
| 17 | Juraj Ježovič | 354 |
| 18 | Bernd Wuerth | 349 |
| 19 | Umur Levent | 339 |
| 20 | Eva Andersson | 333 |
| 21 | Jos van der Sanden | 320 |
| 22 | Anna Klim | 309 |
| 23 | Yasser Mohammed Boghdadi | 305 |
| 24 | Maarten Stolk | 302 |
| 25 | Marco Foti | 290 |
| 26 | Christian Gärtner | 282 |
| 27 | Stefan Mueck | 268 |
| 28 | Raquel Cantón Jara | 266 |
| 29 | Francisco J. Salguero | 243 |
| 30 | Andreas Rücker | 238 |
| 31 | Predrag Kaljevic | 238 |
| 32 | Robert Possmann | 227 |
| 33 | Dagmara Hillar | 218 |
| 34 | Felix Garcia | 214 |
| 35 | Mohamed Abu Bakr | 207 |
| 36 | Jiří Zbytovský | 200 |
| 37 | Carlos Chinchilla | 192 |
| 38 | Angela Robledo | 188 |
| 39 | Jan Schipper | 188 |
| 40 | Geoff Jennings | 186 |
| 41 | Georg Sevcik | 179 |
| 42 | Michela Martini | 179 |
| 43 | Evgeny Shalygin | 177 |
| 44 | Markus Ecker | 172 |
| 45 | Emma Bundy | 170 |
| 46 | Nicolas Menet | 169 |
| 47 | Patrik Pusztai | 166 |
| 48 | Roger Makhoul | 165 |
| 49 | Amith Rao | 163 |
| 50 | Claudio Dettori | 156 |
| 51 | Riccardo Cantone | 156 |
| 52 | Wojciech Bojeczko | 156 |
| 53 | Andriy Lazorenko | 155 |
| 54 | Pavel Kretov | 155 |
| 55 | Thiago Heinen | 154 |
| 56 | Tom Firlefyn | 154 |
| 57 | Róbert Hurný | 152 |
| 58 | Mark Breese | 151 |
| 59 | Alexander Poppe | 144 |
| 60 | Peter Maťo | 143 |
| 61 | Wayne Armstrong | 143 |
| 62 | Matteo Settimo Zamboni | 141 |
| 63 | Peter Matheisl | 141 |
| 64 | Krisztián Pulay | 139 |
| 65 | Andreas Frejborg | 135 |
| 66 | Roberta Gorup | 135 |
| 67 | Mark Cudmore | 134 |
| 68 | Alban Sirven | 133 |
| 69 | Jae Koo Park | 133 |
| 70 | Johan Ferket | 133 |
| 71 | Bob Pepping | 131 |
| 72 | Florian Kanzler | 131 |
| 73 | Venla Kuuluvainen | 131 |
| 74 | Angel Llanes | 130 |
| 75 | Paul Piantino | 130 |
| 76 | Carlo Niccolini | 128 |
| 77 | Grazia Vietri | 127 |
| 78 | Luca Vullo | 127 |
| 79 | Samiya Parvez | 127 |
| 80 | Deniz Ozdemir | 126 |
| 81 | Sebastian Skene | 126 |
| 82 | Erkki Ranta | 124 |
| 83 | Enrique Feliz | 123 |
| 84 | Surendran Kandasamy | 123 |
| 85 | Daniel Keck | 122 |
| 86 | Jack Albrecht | 122 |
| 87 | Manuel Portela | 122 |
| 88 | Marion Guillevic | 122 |
| 89 | Rasidi Mohamed | 121 |
| 90 | Alessandro Liburdi | 119 |
| 91 | Bill Gibbons | 119 |
| 92 | Walter Kiss | 117 |
| 93 | Csaba István Farkas | 116 |
| 94 | Damon Hill | 116 |
| 95 | Erik Verdeyen | 114 |
| 96 | Jakub Lubiński | 114 |
| 97 | Marcel Ruesink | 113 |
| 98 | Adrian Icatoiu | 112 |
| 99 | Anna Manitenko | 112 |
| 100 | Vojtěch Hanzl | 112 |
| 101 | JiHyun Moon | 110 |
| 102 | Marie-Laure Gelin | 110 |
| 103 | M Kamil M Arshad | 109 |
| 104 | Mika Neffling | 109 |
| 105 | Jianqiu Zhang | 108 |
| 106 | Kamil Maksymilian Szostak | 108 |
| 107 | Márk László Bubálik | 107 |
| 108 | Andrea Oblatore | 106 |
| 109 | Ryszard Książek | 106 |
| 110 | Justus Monegel | 104 |
| 111 | Karel Eiselt | 102 |
| 112 | Levent Besen | 102 |
| 113 | HyunJun Kim | 99 |
| 114 | Jens Eeg Ellitsgaard | 98 |
| 115 | Martin Křemenák | 98 |
| 116 | Raul Velasco Pelaez | 98 |
| 117 | Miguel Ángel García Carreño | 97 |
| 118 | Federica Orsenigo | 96 |
| 119 | Jeroen Verhoeven | 96 |
| 120 | Magsud Mammadov | 96 |
| 121 | Andreas Meiswinkel | 94 |
| 122 | Rasmus Hvidtfeldt Harnow Klausen | 94 |
| 123 | Jiushun Zhang | 93 |
| 124 | Martin Joksch | 93 |
| 125 | Mahmoud El-Kholy | 92 |
| 126 | Maura Brianti | 92 |
| 127 | John Finnerty | 91 |
| 128 | Maria Jose Castiblanques | 91 |
| 129 | Dietmar Heinen | 90 |
| 130 | Andrew Reynolds | 89 |
| 131 | Matthias Lapp | 89 |
| 132 | Krisztina Petrényiné Szabó | 86 |
| 133 | Roberto Castelli | 86 |
| 134 | Barbara Ruta | 85 |
| 135 | Markus Hovi | 85 |
| 136 | Maria Garcia Martinez | 84 |
| 137 | Paul Southwood | 84 |
| 138 | Andrés García Trenco | 83 |
| 139 | Peter Masaryk | 83 |
| 140 | Abdulaziz Alkandari | 82 |
| 141 | Alejandra Noren | 82 |
| 142 | Hubert Peciakowski | 82 |
| 143 | Corrado Bidoia | 81 |
| 144 | Omar Attia | 81 |
| 145 | Marijana Ambruš | 79 |
| 146 | Gokce Kosvar | 78 |
| 147 | Murat Ozkal | 78 |
| 148 | Jose Nieves | 76 |
| 149 | Marko Mölsä | 76 |
| 150 | Péter Tamás | 76 |
| 151 | Alexandra Strupinskaya | 75 |
| 152 | Maria Sophie Andersen | 75 |
| 153 | Sorin Ionut Cioca | 75 |
| 154 | Angela Ruiz Garzon | 73 |
| 155 | Dr. Claus-Peter Hälsig | 73 |
| 156 | Colin Webb | 71 |
| 157 | Diana Hajdo | 71 |
| 158 | Hamed AlAzemi | 70 |
| 159 | Padmini Lingaraju | 70 |
| 160 | Samuli Bergman | 70 |
| 161 | Thorsten Müller | 70 |
| 162 | Andreas Neumann | 69 |
| 163 | Andres Munoz | 69 |
| 164 | Carlos Alberto Prieto | 69 |
| 165 | Mikko Tammihovi | 69 |
| 166 | Pedro Medina | 69 |
| 167 | Jadwiga Krasoń | 68 |
| 168 | Piotr Baranowski | 68 |
| 169 | Valeria Racheli | 67 |
| 170 | Christoph Wagner | 66 |
| 171 | Dennis Bauer | 66 |
| 172 | Vitaly Geraskin | 66 |
| 173 | Zsolt Huff | 66 |
| 174 | Andi Ziermann | 62 |
| 175 | Tobias Puklavec | 62 |
| 176 | Kai Saksela | 61 |
| 177 | Manuel Pedraza Valiente | 61 |
| 178 | Kai-Uwe Wemhöner | 60 |
| 179 | Roberto Bea | 60 |
| 180 | Carolin Deregowski | 59 |
| 181 | Dr. Chandrasekhar Ramakrishnan | 59 |
| 182 | Gary Godwin | 59 |
| 183 | Kimmo Peltola | 59 |
| 184 | Ursula Leitner | 59 |
| 185 | Volker Metzger | 59 |
| 186 | Mats Hörnfelt | 58 |
| 187 | Daniele Cartabia | 57 |
| 188 | Frans van de Laar | 57 |
| 189 | Michele Margarone | 57 |
| 190 | Maurits van Tol | 56 |
| 191 | Vanda Mandic | 56 |
| 192 | Zsolt Mathisz | 55 |
| 193 | Daniel Yarnold | 54 |
| 194 | Salvatore Carasi | 54 |
| 195 | Serge Delessert | 54 |
| 196 | Silvia Giusti | 54 |
| 197 | Sinan Seyhun | 54 |
| 198 | Julian Terpitz | 53 |
| 199 | Marko Lehtinen | 53 |
| 200 | Vinay Sohoni | 53 |
| 201 | Maria Soledad Calcagno | 52 |
| 202 | Mya Yeo | 52 |
| 203 | Tolga Timirci | 52 |
| 204 | Aleksandar Lucic | 51 |
| 205 | Andreas Bormann | 51 |
| 206 | Fred Baars | 51 |
| 207 | Tomi Lahti | 51 |
| 208 | Daniel Marenne | 50 |
| 209 | Helmut Draxler | 50 |
| 210 | Iulian Poenaru | 50 |
| 211 | Ling Wang | 50 |
| 212 | Tibor Fekete | 50 |
| 213 | Cagatay Yaylaci | 49 |
| 214 | Frank Schuch | 49 |
| 215 | Kristina Marić | 49 |
| 216 | Wolf Christian Behrbohm | 49 |
| 217 | Zina Skoufa | 49 |
| 218 | Claudia Prati | 48 |
| 219 | Frederic Arranz | 48 |
| 220 | Adrian Tudose | 47 |
| 221 | Yuki Nishimura | 47 |
| 222 | Ömer Yurttaş | 47 |
| 223 | Alexey Igonin | 46 |
| 224 | Audrey Tardy | 46 |
| 225 | Christoph Matt | 46 |
| 226 | Friederike Schuh | 46 |
| 227 | Klaus Finkbeiner | 46 |
| 228 | Kurt Bjerre | 46 |
| 229 | Risto Vapola | 46 |
| 230 | Sinziana Radulescu | 46 |
| 231 | Valentina Pirozzi | 46 |
| 232 | Abdullah AlGhadouri | 45 |
| 233 | Milan Andric | 45 |
| 234 | Mr. Juergen Kuerth | 45 |
| 235 | Dario Giordano | 44 |
| 236 | Ahmed AlMajed | 42 |
| 237 | Jyri Lindholm | 42 |
| 238 | Kiryl Tkachou | 42 |
| 239 | Jin Hartmann | 41 |
| 240 | Mark Vester | 41 |
| 241 | Bob Van Schoor | 40 |
| 242 | Uwe Minkus | 40 |
| 243 | Aydincan Aral | 39 |
| 244 | Michele Cuonzo | 39 |
| 245 | Ali Ertug Gunes | 38 |
| 246 | Beatriz Hidalgo | 38 |
| 247 | Erwan Cotard | 38 |
| 248 | Olzhas Rustemov | 38 |
| 249 | Yannick Sel | 38 |
| 250 | Alicja Treder | 37 |
| 251 | Jesper Vester Leihof | 37 |
| 252 | Virginia Tosi | 37 |
| 253 | Elyorbek Saydakhmedov | 36 |
| 254 | György Szűcs | 36 |
| 255 | Jim Watt | 36 |
| 256 | César Galera Villaescusa | 35 |
| 257 | Ibrahim Utku Açıkalın | 35 |
| 258 | István Valkai | 35 |
| 259 | Kurt Vinck | 35 |
| 260 | Lijing Yang | 35 |
| 261 | Markus Fuchsbichler | 35 |
| 262 | Veronica Campanelli | 35 |
| 263 | Ayca Arinan | 34 |
| 264 | Dmitry Shevchenko | 34 |
| 265 | Julien Colas | 34 |
| 266 | Kristian Bergman | 34 |
| 267 | Daniel Salvador Garcia | 33 |
| 268 | Dr. Sandra Jensen | 33 |
| 269 | Jim Seward | 33 |
| 270 | Octavia Galion | 33 |
| 271 | Xin Sun | 33 |
| 272 | Ádám Kis-Simonka | 33 |
| 273 | Dimitri Daniels | 32 |
| 274 | Giulia Pollastri | 32 |
| 275 | Juho Korpela | 32 |
| 276 | Marko Pekkola | 32 |
| 277 | Attila Veres | 31 |
| 278 | Chuck Munro | 31 |
| 279 | Mihaly Tobis | 31 |
| 280 | Akhrorbek Saydakhmedov | 30 |
| 281 | Dr. Walter Tesch | 30 |
| 282 | Hüseyin Isteben | 30 |
| 283 | Risto Heikkala | 30 |
| 284 | Zheng Chen | 30 |
| 285 | Jori Sahlsten | 29 |
| 286 | Lucica Bacanu | 29 |
| 287 | Mauro Paganelli | 29 |
| 288 | Ping Yang Tan | 29 |
| 289 | Eser Dincer Hafızoglu | 28 |
| 290 | Min Ho Son | 28 |
| 291 | Roman Svitan | 28 |
| 292 | David McMahon | 27 |
| 293 | Diyar Kilic Mert | 27 |
| 294 | Fuchao Li | 27 |
| 295 | Markku Pirnes | 27 |
| 296 | Prateek Agarwal | 27 |
| 297 | Simona Rossetti | 27 |
| 298 | Łukasz Zalewski | 27 |
| 299 | Antonio Bassi | 26 |
| 300 | Azmi Hashim | 26 |
| 301 | Iva Tvrzová | 26 |
| 302 | Marek Kuraś | 26 |
| 303 | David Borjesson | 25 |
| 304 | Francesca Dornetti | 25 |
| 305 | Iqbal Hossain | 25 |
| 306 | János Mészáros | 25 |
| 307 | Zou Liang | 25 |
| 308 | Adrian Raceanu | 24 |
| 309 | Arda Fırat Gürçay | 24 |
| 310 | Bilal Guliyev | 24 |
| 311 | Bronislav Prosecký | 24 |
| 312 | Davide Carassai | 24 |
| 313 | Gauthier Perdu | 24 |
| 314 | Asif Javaid | 23 |
| 315 | Bob Newhouse | 23 |
| 316 | JLuz Latham | 23 |
| 317 | Laura Prosperi | 23 |
| 318 | Mette Trige Skovgaard | 23 |
| 319 | Phil Ingram | 23 |
| 320 | Pierre Mathieu | 23 |
| 321 | Cristina Guazzotti | 22 |
| 322 | James Starr | 22 |
| 323 | Jesus Javier Lazaro Muñoz | 22 |
| 324 | Daniela Cioca | 21 |
| 325 | Duygu Aydın | 21 |
| 326 | Jiří Hájek | 21 |
| 327 | Luca Brunetto | 21 |
| 328 | Davide Carta | 20 |
| 329 | Jason Diefenderfer | 20 |
| 330 | Mateusz Kleszcz | 20 |
| 331 | Yunhyeong Lee | 20 |
| 332 | Daniel Carter | 19 |
| 333 | Dmitrij Igorievic Capobianco | 19 |
| 334 | Gustavo Perez | 19 |
| 335 | Gábor Tóth | 19 |
| 336 | Ines Gameiro | 19 |
| 337 | Isabell Hametner | 19 |
| 338 | Carissa Messner | 18 |
| 339 | Gina Pinto | 18 |
| 340 | Michele Russo | 18 |
| 341 | Pablo Spesso | 18 |
| 342 | Paweł Winnicki | 18 |
| 343 | Rui Amorim | 18 |
| 344 | Sergio Aquenza | 18 |
| 345 | Sharul A-Rashid | 18 |
| 346 | Alessandro Lo Bianco | 17 |
| 347 | Alexandru Florea | 17 |
| 348 | Iulia Dinu | 17 |
| 349 | Martin Scalabrini Ortiz | 17 |
| 350 | Michael Ng Chien Han | 17 |
| 351 | Stefano Protogene | 17 |
| 352 | Mirco Bartollini | 16 |
| 353 | Monica Danila | 16 |
| 354 | Alberto Cepa Contreras | 15 |
| 355 | Claudia D'Amario | 15 |
| 356 | Gabriela Mastan | 15 |
| 357 | Irina Ionescu | 15 |
| 358 | Ivica Jerbić | 15 |
| 359 | Klaus-Peter Müller | 15 |
| 360 | Mark Carter | 15 |
| 361 | Peng Wang | 15 |
| 362 | Daniela Orsini | 14 |
| 363 | Yiltzon Moreno | 14 |
| 364 | Alba Zamora Uruñuela | 13 |
| 365 | Antonio Salati | 13 |
| 366 | Jutta Narjes | 13 |
| 367 | Serhat Armutcu | 13 |
| 368 | Busra Basaran | 12 |
| 369 | Henrik Radberg | 12 |
| 370 | Max Samodurov | 12 |
| 371 | Rebecca Daly | 12 |
| 372 | Reza Farzad | 12 |
| 373 | Alessia Mangiapane | 11 |
| 374 | Celal Guvenc Ogulgonen | 11 |
| 375 | Dr. Thomas Streich | 11 |
| 376 | Gian Luca Pittoni | 11 |
| 377 | Gozde Meric Coskun | 11 |
| 378 | Sourabh Mukherjee | 11 |
| 379 | Cathy Tway | 10 |
| 380 | Chunfang Chen | 10 |
| 381 | Dr. Berrak Erkmen | 10 |
| 382 | Federico Zanellotti | 10 |
| 383 | Kirstin Linnenkoper | 10 |
| 384 | Luis Grande Garcia | 10 |
| 385 | Perttu Tuomaala | 10 |
| 386 | Stefan Beck | 10 |
| 387 | Yann Ardouin | 10 |
| 388 | Aming Kusumadjaja | 9 |
| 389 | Andreea Iosif | 9 |
| 390 | Gilles Thevenet | 9 |
| 391 | Maria Rosaria Carella | 9 |
| 392 | Andrew Morris | 8 |
| 393 | Ayaka Uemura | 8 |
| 394 | Dr. Nicole Schoedel | 8 |
| 395 | Imad Nassif Makki | 8 |
| 396 | Inna Ivkova | 8 |
| 397 | Jesús Martin Hidalgo | 8 |
| 398 | Niccolò Heilpern | 8 |
| 399 | Tommaso Rossetti | 8 |
| 400 | Vittorio Stefanoni | 8 |
| 401 | Cosimo Cannalire | 7 |
| 402 | Giovanni Pappalardo | 7 |
| 403 | Lorenzo Ferraro | 7 |
| 404 | M Fairuz Ramil | 7 |
| 405 | Paolo Cerizzi | 7 |
| 406 | Ali Kucuk | 6 |
| 407 | Anca Diaconita | 6 |
| 408 | Herve Mayer | 6 |
| 409 | Jakov Mihaljević | 6 |
| 410 | Katarina Persson | 6 |
| 411 | M Rosedi M Zain | 6 |
| 412 | Michael Hahn | 6 |
| 413 | Oh-Hoon Kwon | 6 |
| 414 | Alberto Pelaez Arroyo | 5 |
| 415 | Ali Azizan Maamor | 5 |
| 416 | Carlo Peschechera | 5 |
| 417 | Carlos Navarro | 5 |
| 418 | Eyup Azizoglu | 5 |
| 419 | Jan Tesarik | 5 |
| 420 | Jimmy Chan Kai Lung | 5 |
| 421 | Ofiul Hasnat | 5 |
| 422 | Takahiro Shimamura | 5 |
| 423 | Tom Van Den Broeck | 5 |
| 424 | Yunus Emre Yilmaz | 5 |
| 425 | Zhafran A Aziz | 5 |
| 426 | Alexander Ilin | 4 |
| 427 | Ali Alajmi | 4 |
| 428 | Esteban Gomez Fernandez | 4 |
| 429 | Iulian Marin | 4 |
| 430 | Maria Cristina Tosti | 4 |
| 431 | Maria Daniela Musatoiu | 4 |
| 432 | Silvia Zagrai | 4 |
| 433 | Burcu Özgün | 3 |
| 434 | Dongseop Kim | 3 |
| 435 | Dr. Gunther Kracker | 3 |
| 436 | Ege Baydargil | 3 |
| 437 | Ignacio Lopez Serrano | 3 |
| 438 | Jefferi Kamarudin | 3 |
| 439 | Miguel Ruiz Hernández | 3 |
| 440 | Monica Robert | 3 |
| 441 | Patrick von Essen | 3 |
| 442 | Päivi Kivilä | 3 |
| 443 | Raluca Lainer | 3 |
| 444 | Anders Hermansson | 2 |
| 445 | Berk Özdemir | 2 |
| 446 | Dr. Ludger Merschel | 2 |
| 447 | Fırat Celenkli | 2 |
| 448 | Gabriela Pavel | 2 |
| 449 | Joel Heilman | 2 |
| 450 | Juan Manuel Tomé Lara | 2 |
| 451 | Marco Villa | 2 |
| 452 | Alexandra Vertlyugina | 1 |
| 453 | Anastassia Pirlot | 1 |
| 454 | Donald Macleod | 1 |
| 455 | Dr. Ayhan Ezdeşir | 1 |
| 456 | Gabor Gerencser | 1 |
| 457 | Ganesh Nagarajan | 1 |
| 458 | Geert Reyniers | 1 |
| 459 | Ileana Flori | 1 |
| 460 | Kai Sievers | 1 |
| 461 | Robb Pulaski | 1 |
| 462 | Suho Lee | 1 |
back to the news list