Routine maintenance will save you money
It is important to maintain all equipment in the compressed air system according to the manufacturers' specifications. This is especially true for the recommended inspection, testing, maintenance, and service schedules specified in operating manuals.
From an energy efficiency perspective, in many cases, it is wise to maintain equipment more frequently than the recommended intervals. This is especially true for managing air leaks, high pressures, moisture and controls.
The intent of routine maintenance is to "prevent" maintenance problems or failures before they take place by following routine and comprehensive maintenance procedures. The goal is to achieve fewer, and predictable outages giving you the maximum up time of operation.
10 years operating costs of a compressor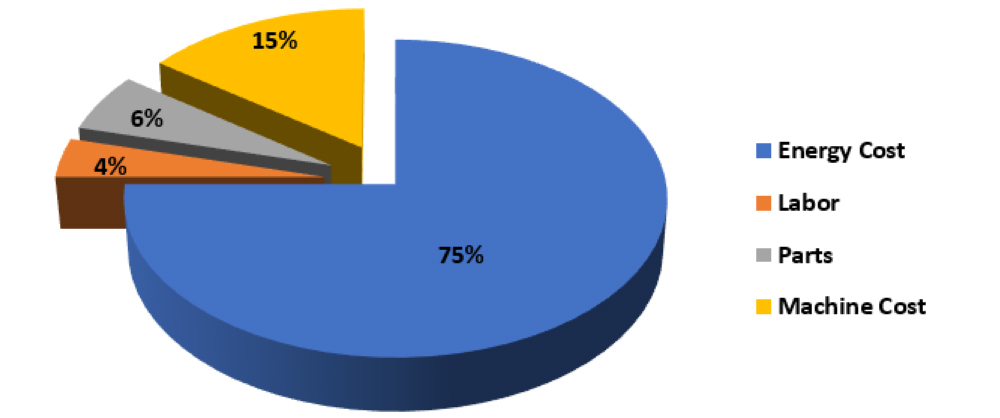 6% of total operating cost is coming from the parts.
Some advantages of doing your routine maintenance are:
Reduce energy usage
Reduce costs

Improve quality of air

Extend equipment life

Reduce system failures

Improve occupant satisfaction

Each manufacturer's make and model of compressed air equipment gives specific guidelines for routine maintenance in the operations manual sent with the equipment. Some products designs may require more steps and checks, below is a good place to start to get the longest life out of your investment.
The basic maintenance items needed to keep your compressed air system in good operation. This routine maintenance program is designed for a standard condition, but most installations for air compressors would be considered dirty and dusty environments.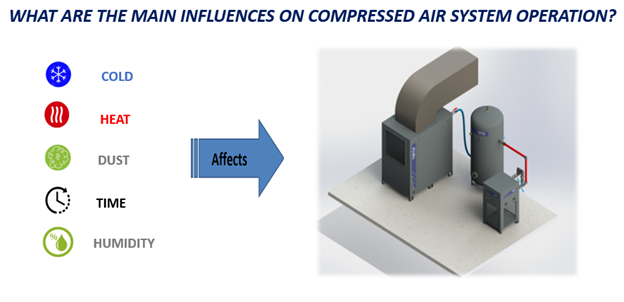 Factors to consider, to properly maintain the compressed air system:
Environment
First the environment is the one factor that governs all of the others. If your compressor is running in a dirty environment, them you have to keep cleaning the coolers externally to keep the compressor cool. If the air filter is continually dirty when you inspect it periodically; then you have a dirty environment. You should use the monthly recommendations and not the hours of run time.
Compressors
Intake filter; appropriate periodic clean or replacement

Oil filters; periodic replacement

Compressor oil periodic replacement

Interim and full service as per manufacturers schedule essential

Inter cooler heat exchanger surfaces clean


After Treatment System
Check Dryer Operation – and Dew Point Temperature

Clean Surfaces of Dryer Cooler

Check Test Dryer Drain

Check/Replace Compressed Air Filters and Elements

Check Receiver Condition & Drain

Blocked or heavily obscured filters, air leakages from damaged drains will result in excessive pressure drop and compressed air loss.
Clogged filters will not function properly which can result in bad end product quality, damaged downstream components.
Distribution
Evaluate pressure and monitor system pressure drop

Check Repair leakages

Predictive maintenance can pay off for larger systems particularly. Special equipment can be used to anticipate when problems start to occur.
For example, use:
Vibration analysis, where rotational equipment is analyzed for noise and vibration.

Oil analysis, which can identify friction issues or contamination issues.

Thermographic surveys, which can identify overheating issues as well as electrical faults.

A compressed air supplier will be able to advise on all of the above predictive maintenance techniques.
All of these methods can help to identify problems before they become failures and point to areas of increased energy consumption. Note the compressed air system cannot be run for ever on just basic servicing, oil/filter changes and so forth, and the maintenance schedule should include major overhauls that will continue to operate after this but efficiency and performance will deteriorate without ongoing maintenance.
Wide production range of Hertz Kompressoren includes:
Oil-Free Screw Compressors

Turbo (Centrifugal) Compressors

Oil-Injected Screw Compressors

Oil-Free 40 Bar Piston Compressors

Low Pressure, High Pressure and Booster Piston Compressors

Portable Diesel Compressors

Air Dryers (Refrigerated, Adsorption, Blower Purge)

Air Receivers

Downstream Equipments

Learn more about Hertz Kompressoren
---
ADDITIONAL OPTIONS FOR YOU:
find out more about Petrochemical and Refining Congress: Europe at prceurope.com
request marketing materials here

share the article in social networks using the buttons below and our hashtag #PRCEurope2019
back to the news list