5 Good news from the downstream industry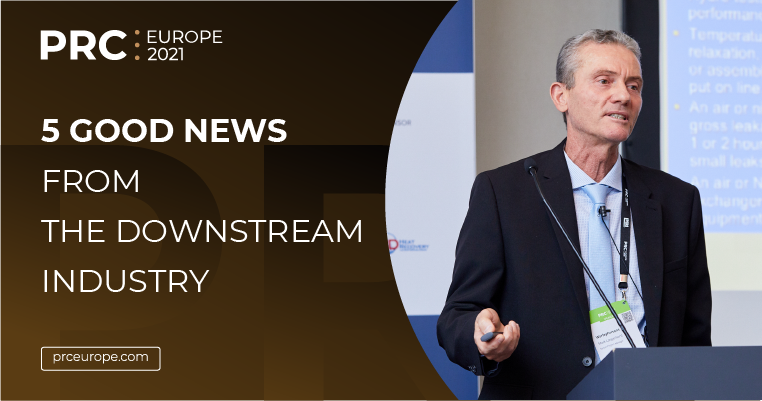 The Downstream industry is on its way to recovery! O&G majors are signing agreements, announcing new partnerships, and developing innovative technologies. Here are 5 good Downstream news from the industry leaders including the participants of PRC Europe 2020:

Worley was awarded renewable chemicals and plastics FEED contract
Worley will develop Avantium's flagship plant that will support the transition to a bio-based economy for plastics.
Read more
BASF & ExxonMobil unveil new gas treating technology to help customers lower sulphur and overall CO2 emissions
It allows to selectively remove hydrogen sulphide, while minimising co-absorption of carbon dioxide from gas streams.
Read more

Dow & Johnson Matthey announce first licence of more sustainable isononyl alcohol production process to be in China
The plant will be built at QXTD's integrated petrochemical complex in Zibo City, China, and produce 200,000 metric tonnes of annual capacity.
Read more

TechnipFMC and Clariant sign joint development agreement
They have entered into a joint development agreement for the demonstration and commercialisation of Clariant's new propylene ammoxidation catalyst for the production of acrylonitrile.
Read more

BP licenses its latest generation PTA technology to Dongying Weilian Chemical in China
BP has entered into an agreement to license its latest generation technology for the production of purified terephthalic acid (PTA) to China's Dongying Weilian Chemical Co., Ltd.
Read more

---
ADDITIONAL OPTIONS FOR YOU:
find out more about Petrochemical and Refining Congress: Europe at prceurope.com
request marketing materials here

share the article in social networks using the buttons below and our tag #PRCEurope2020
back to the news list