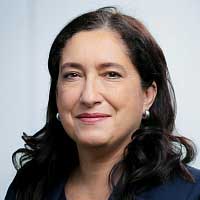 Mercedes Alonso
Neste Corporation
Executive Vice President, Renewable Polymers and Chemicals
Executive Vice President, Renewable Polymers and Chemicals business unit at Neste Corporation. M.Sc.
(Chem). Member of the Executive Committee at Neste since joining the company in September 2019.
Previously served as Marketing Director Advanced Polymer Solutions Europe in LyondellBasell (2019),
Managing Director Eng. Composites Europe 2016–2019, and Global Director Corporate Marketing in
A.Schulman Inc. 2013–2016, as well as Business Excellence Leader, Advanced Materials (2010-2013),
and several commercial roles in the Specialty Chemicals and Elastomer business units at Dow Chemical
(Europe) 1991–2013.